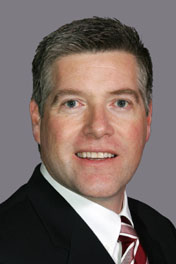 I've long held a soft-spot in my political heart for the Green Party, and so I'm pleased they at long last have their first MP, even if he wasn't elected under the Green banner. I also think that Elizabeth May should be in the leaders' debates, and this should help make that happen. It's really unfortunate, though, that their standard-bearer, the person who will go down in history as the first Green MP in Canada, had to be Blair Wilson.

It really should have been Elizabeth May. And she may well still end up being the first elected Green MP, as I think she's going to give Peter McKay a real run for his money in Central Nova.

This should really be a big day for the Green Party, and for all supporters of democracy in general. In some ways, it still is. But it's tainted by the person they've cast to fill this historic role.

The fact is, there's a reason why Blair Wilson was asked to leave the Liberal caucus, and there's a reason why his repeated pleas, both public and private, to re-join the Liberal caucus were firmly and soundly rejected. Blair Wilson is not MP material.

After a long investigation by Elections Canada the 24 allegations of campaign finance irregularities against him were reduced to three, which he acknowledged as violations as entered into a compliance agreement with Elections Canada.

He was asked to leave caucus, though, because he hid a laundry list of legal disputes from the party when he sought and accepted the Liberal nomination, and repeatedly refused to cooperate when word of the allegations began to come out.

The list of allegations unearthed in an investigative series by the Vancouver Province last fall, including failed business dealings, friends and investors and suppliers left holding the bag, lawsuits and more, reads like a soap opera:

Among the allegations against Wilson, The Province has learned:

- Wilson did not report campaign expenses to Elections Canada and paid for supplies off the books, in cash, a breach of the act.

- Wilson and his wife, Kelly, borrowed roughly $1.9 million from his in-laws to purchase six properties, and much remains unpaid despite the fact they have sold some homes.

- Wilson and his wife were subject to Social Services Tax Act liens on three properties and owe $2.1 million in bank mortgages.

- Wilson misled the media about the true extent of his business success, exaggerating the number of restaurants he founded and claiming to have sold an accountancy business his in-laws claim closed, among other discrepancies.

- Wilson lost hundreds of thousands of family investors' money in the stock market and yet billed them for management fees.

- Wilson's two restaurants, Mahoneys and Wilson's Steakhouse, closed. He was taken twice to the B.C. Employment Standards Tribunal for refusing to pay employees, was sued twice for failing to pay contractors, was twice compelled by the courts to pay GST owing, and was also taken to court by a supplier over $33,839 that was owed (this amount was later paid).

- Wilson bought extravagant gifts for a girlfriend in Poland while working for a restaurant chain called Pan Smak Pizza Inc.
And yes, if you're wondering, Blair is married. Perhaps his time in Poland will help him in his new role as the Green Party's immigration critic.
A second article has even more on the business history of Blair Wilson
, and the damage and losses he left in his wake.
All this history, which should have been disclosed to the party as a matter of course, was hidden by Wilson when he applied to be a candidate, and would likely had disqualified him from running had it been known. That's why he wasn't allowed to run for the Liberals again. He has consistently failed to demonstrate the ethics, honesty and integrity that should be expected of a Member of Parliament. If a person isn't going to be open and honest with the party, how can he be trusted to run under its banner?
Interestingly, it seems like it's those that know Blair Wilson best, those that have been close to him, that feel most strongly that he is unfit for public office.
Like former NHLer Tony Tanti, who lost the $50,000 he invested in a Wilson business:
Tanti, for one, says he can let his $50,000 loss go, but not his worries about Wilson's suitability for office.



"My concern about the whole thing, him getting into politics, [is] if he is doing that to so-called friends and everything else, what is he going to do when he's got [public] money in his hands?

"My $50,000 was a lot of money, but it's not going to change my lifestyle. But now he has public funds. That's my biggest concern."
And Wilson's own father-in-law, Bill Lougheed, who had to resort to legal action over unpaid loans to Wilson:

The Lougheeds claim Wilson misrepresented himself to voters in his riding, pretending to be a wealthy politician while he was secretly saddled with enormous debts. Wilson's defaulting, Lougheed feels, makes the MP "not fit for public office."

Lougheed feels the MP's "insatiable need for money" and the fact that he's "living beyond his means" has put his family in jeopardy.
And friends who themselves volunteered for Wilson's campaigns have told me some unsettling stories about the experience, and his suitability for office.
In announcing Wilson's move to the Greens, May claims to have investigated all this and to be satisfied with his explanations. I just hope that, in her desire to have this historic announcement, and to secure her place in the debates, she hasn't made decision she will one day come to regret.
Wilson likes being an MP. He likes the prestige, the perks, the attention. He has been pushing for months to get back into caucus, and as late as mid-August he was pushing the caucus to consider the matter when it meets next week in Winnipeg. To his credit, Stephane Dion bluntly told him it wasn't going to happen. Only then, with an election imminent, did Wilson make his move to the Greens.
Is getting their first MP and getting into the leaders' debate worth getting into bed with someone like Blair Wilson? I suppose time will tell. I just feel bad for my Green friends that this is how this historic day had to happen. Given the long-held commitment of the Green movement to democracy, honest and integrity, this can't be quite how they would have pictured this day.
Recommend this Post on Progressive Bloggers